Kapil Sharma's silence on BMC's Notice for Illegal construction activities: – On this Friday morning the king of comedy showed his anger towards PM Narendra Modi that through his tweets. He has made an online complaint to India's Prime Minister that he has been asked to pay a bribe of 5 lakhs rupees to built his new office. In his first tweet, he mentioned that he is paying 15 crores rupees as income tax from last five years on time, and when he reached BMC to get approval to build his new office, some officer asked him to pay a bribe. And within no time he posted another befitting tweet against PM Modi's slogan of good days are ahead. When twitterati found his tweet, they retweeted it more than 3,000 times within three hours.
I am paying 15 cr income tax from last 5 year n still i have to pay 5 lacs bribe to BMC office for making my office @narendramodi

— KAPIL (@KapilSharmaK9) September 9, 2016
Yeh hain aapke achhe din ? @narendramodi

— KAPIL (@KapilSharmaK9) September 9, 2016
Also See: – Kapil Sharma shows anger to PM Narendra Modi on Twitter. "Yeh hain aapke achhe din? "
And a few hours later CM of Maharashtra Devendra Fadnavis replied to him and asked to name the officer and to provide all necessary details so that officials can take strict action against him and within five hours MCGM responded to the allegations made by Kapil Sharma as the chief vigilance engineer Manohar Pawar published a letter assuring that MCGM has taken a serious view of his complaint. They also asked the name of the person who entertained the corruption to take strict action against him.
Kapilbhai pls provide all info.
Have directed MC,BMC to take strictest action.
We will not spare the culprit.@KapilSharmaK9 @narendramodi

— Devendra Fadnavis (@Dev_Fadnavis) September 9, 2016
Here is the copy of the statement issued by MCGM to Kapil Sharma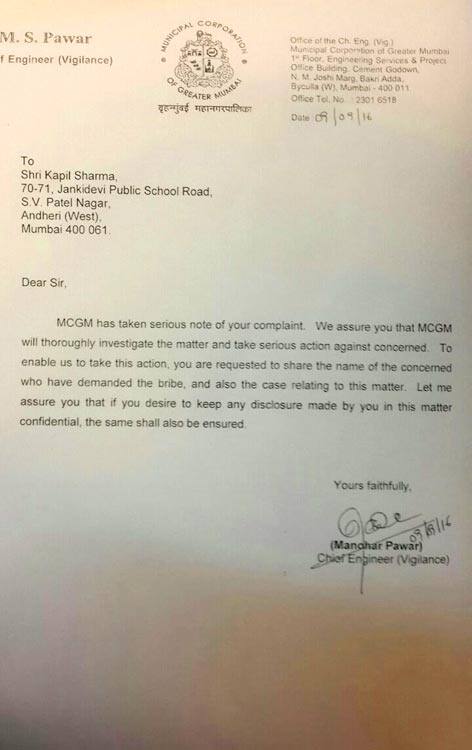 BMC chief engineer further said, "He must have made these allegations with some base hence we need him to provide us with all the evidence he might have and the name of the official. Depending on the same action would be initiated."
Also See: – The Kapil Sharma Show: Akshay Kumar rocked the show with Beautiful Ileana D'cruz and Esha Gupta
Most of the people were favouring Kapil Sharma because he was looking innocent and it also shocked people that he is paying 15 crores per year as income tax and still one of BMC official is demanding a bribe for his new office. After the notice sent to the comedian, he did not say a single word till yet, and it was believed that something was going wrong as he has still kept himself hushed.
And here comes a curve in the story when News18 revealed that BMC had warned Kapil against illegal construction.
#EXCLUSIVE | CNN-News18 accesses BMC letter which shows Kapil Sharma's office construction was illegal #KapilVsBMC pic.twitter.com/AnWFmU3dCK

— News18 (@CNNnews18) September 9, 2016
The copy of Stop Work Notice issued by BMC, dated 16/7/2016 was a warning to stop his illegal construction activities.
The notice said, "The BMC is satisfied that you have unlawfully commenced/been unlawfully carrying on, erection of building/erection of work described in the schedule below located at above address i.e. 70-71, Janki Devi Public School Road, SV Patel Nagar, Andheri West, Mumbai."
"I hereby directed you to stop the erection of the said building/execution of the said work forthwith. If you fail to stop the execution of work or if stopped and fail to produce permission, within 24 hours, I shall under Section 354 (A) and in exercise of powers and functions conferred upon me as foresaid, without any further notice cause the said building or work to be removed or pulled down, at your risk and cost," the notice said.
The notice sent by BMC also informed and warned Kapil Sharma that if any construction activity is continued by him, it will be removed by the police and the comedian did not reply to BMC notice. In the first week of August, BMC official went ahead destroyed constructed parts which were illegally made and what took place between BMC and Kapil Sharma is a mystery for which everyone one is looking for.
Two days later BMC also gave the same notice to Versova Police station and requested them to provide police protection for the demolition work. Manohar Pawar, chief of BMC's Vigilance said that "As of now, BMC is focusing on the bribery complaint by Sharma. BMC has sent a request letter to Sharma seeking details of the case. Once the details are in hand and the name of the officials who demanded the bribe have been revealed, action will be taken."
One thing is noticeable that, it is very unclear that if the structure of Kapil Sharma's building was demolished by BMC in August then why the BMC official person was asking him to pay the bribe? It is also not clear that if the comedian was seeking approval to rebuilt the demolished structure and was asked to give a bribe to do so.
Now Kapil Sharma has not responded to allegations that his structure was destroyed by BMC for continuing illegal construction work, and he has also not revealed the identity of the person who asked him to pay the bribe.