Exclusive: Arijit Singh will never sing for Salman Khan anymore!: – The 29 years old famous singer Arijit Singh who is known for his heart touching voice has decided that he will never sing for Salman Khan anymore. The reason behind it is that the fight between two at a Star Guide 2014 night and when the actor was gearing for his movie 'Sultan,' he didn't allow the Arijit to sing 'Jag Ghumiya' song for his film, it was a sad moment. But 'Tum Hi Ho' singer was all right with it and later on his voice was replaced by famous Pakistani legend Rahat Fateh Ali Khan who sung the number 'Jag Ghumiya,' Sallu Miya too voiced it in his version. However, the spat between them is gone far away now he will not sing for 'Bajrangi Bhai Jaan' actor.
This fight started on Star Guide Awards 2014 where Salman Khan and Arijit Singh were having some fun by pulling legs of each other, and then Arijit said something about him which felt offended by Bhai Jaan and from that time both haven't talked yet. When the singer realized and noticed that 'Bhai Jaan' has got angry with him, then he wrote a letter publically on the Facebook to him to apologize for his mistakes and was expecting that the letter will fix all the issues between them. But, 'Bhai' was not able to forget that night of Star Guide in which he felt insulted by the sentences said by the singer, that post was also deleted, and the actor did not forgive him till yet.
Also Read: – Varun Dhawan doesn't like the comparison of him with Salman Khan!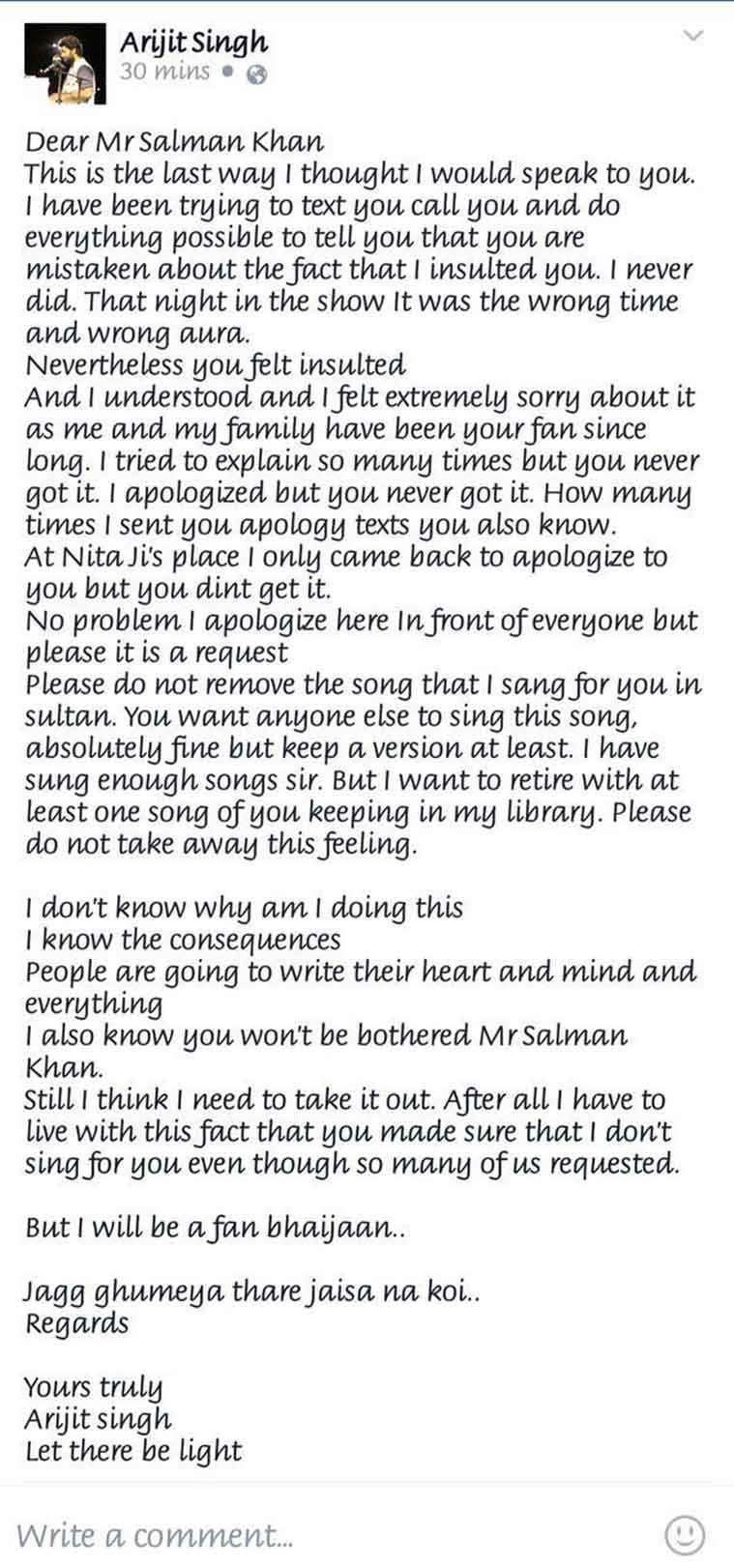 The fight became more complicated after the online apology made by the singer when media asked him that his plea was not expected by the actor now what he will do? Will he launch another apology? Then Arijit told media that he is a great fan of all the actors in the industry, but Salman Khan is his favorite. He has apologized too, and there is nothing more he can do. Now it should be over and unlike "uss baat ko tum kheechte hi chale jao." He did not allow me to sing the song for his movie and it is nice for him and me too. He understands that after Star Guide 2014 his angriness is natural but he has said sorry once which is enough. He can't continue to apologize all the time, and now the chapter is closed for him.
Also Read: – Salman Khans's Bigg Boss 10 promo details leaked! See it!
Arijit's fans got annoyed and supported him too for it; fans also suggested him that now he should not beg for apology anymore. And, today the exclusive news is in front of everyone, but Salman and Arijit sigh have a good number of commons fans who want both of them to work together and fix their issue. To set this fight a lot of time will be indeed as all knows that after how many years it took to Sallu Miya to talk with Shah Rukh Khan.